Mariah Carey & Friends: Throughout The Years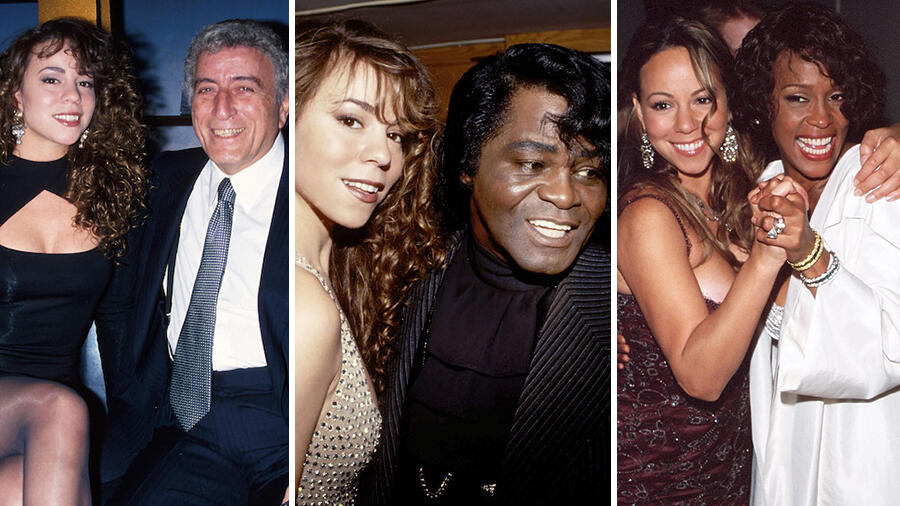 If you know anything about Mariah Carey, you already know that the chart-topper doesn't celebrate her birthday like the rest of us average folk. As explained to OUT in 2014, the pop diva likes to rejoice in her trips around the sun in the most Mariah way possible. She refers to them as her "anniversaries." On Friday (March 27), MC turns the big 5-0, but we're guessing that the industry titan won't be able to have the celebratory bash that she was hoping for amidst the coronavirus outbreak.
In honor of her milestone, iHeartRadio has rounded up a batch of photos of the icon with other famous faces to remind her of the stars she might want to invite to her festivities once things get up and running again. Scroll on below to see Mariah and friends throughout the years!
Michael Bolton and Tony Bennett
James Brown
Whitney Houston

Magic Johnson
Stevie Wonder
Chaka Khan and Brandy
Calvin Klein
LL Cool J
Aretha Franklin
Gloria Estefan, Aretha Franklin, Carole King, Shania Twain, and Celine Dion
Karl Lagerfeld

Donatella Versace
Jim Carrey and Elton John
Ricky Martin and Gloria Estefan
Patti Labelle
Paris Hilton and Nicole Richie
Diana Ross

Yoko Ono and Jay Z
Paul McCartney
Kanye West and P. Diddy
John Legend
Andre Leon Talley
Mary J. Blige
Alicia Keys
Jennifer Hudson
Lenny Kravitz
Diane Warren
Prince
Nas
Usher and Jermaine Dupri
Nick Cannon, Moroccan Scott Cannon, and Monroe Cannon