Jennifer Nettles Calls For "Equal Play" With Fashion Statement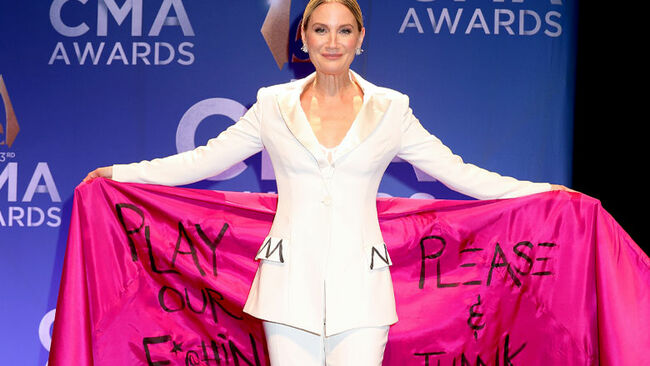 Jennifer Nettles is making a statement, both in fashion and with radio airplay.
The Sugarland front-woman arrived on the CMA red carpet draped in a stunning white tuxedo laced with a pink cape that made a bold statement.
"Play Our F****n Records. Please and Thank You," reads the inner lining of her cape. "Equal Play," boldly written across the posterior panel of her jacket.
Earlier this year, airwaves rippled with a an academic analysis, "Gender Representation on Country Format Radio: A Study of Published Reports from 2000-2018," conducted by Dr. Jada Watson, of the University of Ottawa. The research showed that between 2002-2018 women were under represented in the country format.
RELATED: 8 Female Trailblazers In Country Music.
CMT Radio's Cody Alan is proud to lock arms with the talented females in country music and is dedicated to being a sounding board for more female focused airplay.
"I would like to believe that we are ready to see more diverse programing in general. It's time to wrap our arms around talented artists for their abilities, and not discard them for their gender, race or simply not "fitting in the box." I am proud that CMT is leading the charge on our platforms. Our 'Artists of the Year' special was a great example of how to truly embrace the influence of female stars in country music- past, present and future. The women of country add a perspective the music needs. In planning for that future, CMT's 'Next Women of Country' initiative is active in discovering and fostering the careers of artists we love. On the radio with CMT After MidNite and CMT Radio Live, we're also dedicating air time and effort to waving the flag for females and diversity. By the way, all this is happening not just because the artist(s) is female, but because female artists are making great music." 
Photo Credit: Getty Images.