Sheryl Crow and Chris Stapleton Unite On CMT's Crossroads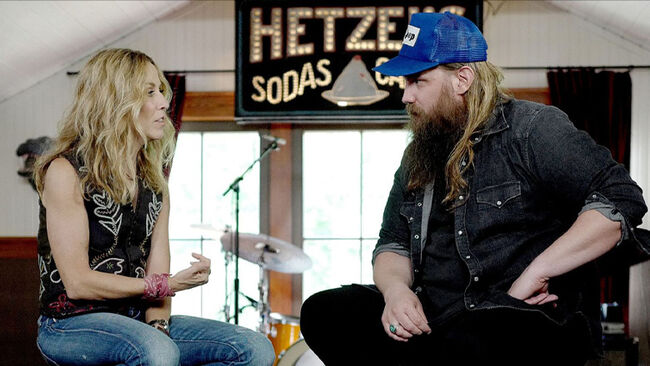 Sheryl Crow is bringing her friends to CMT Crossroads. 
Ahead of the Sept. 27 CMT premiere, Sheryl and Chris Stapleton are pairing up and offering a preview for fans. Their unmatched energy makes them the perfect duet partners for a longing heartbreak classic like, "Tell Me When Its Over." 
Watch the video below to see Sheryl and Chris join forces for CMT post their collaboration for Sheryl's album, "Threads." 
In a recent interview with Cody Alan, Sheryl credits Chris for not only helping add magic to her album but for also helping to add "WOO WOO" to her guitar collection. 
Sheryl told Cody that she believes in the power of a guitar's "WOO WOO," and the "Woo Woo" effect is what makes a guitar sound so special. She continued to explain herself by saying, "What's in that guitar is the years of enjoyment that has been drilled into it. You know, the "mojo" or the "juju" that's on that guitar. You hang it in your studio and its constantly capturing those vibrations. Like, when Chris Stapleton comes in and plays, I know my guitars are absorbing those vibrations." 
Feel the vibrations align and watch Sheryl and Chris perform their rendition of "Tell Me When It's Over" found on Sheryl's 'Threads' album. 
RELATED: Sheryl Crow Admits She Still Gets Starstruck.
Mark your calendars. Watch CMT on Sept. 27 at 9:00 p.m. CT and catch the full episode of 'CMT Crossroads: Sheryl Crow & Friends' which will include performances by Joe Walsh, Bonnie Raitt, Jason Isbell, Emmylou Harris, and Lucius. 
For more information, visit CMT.com and check out CMT Crossroads on Facebook, by using the hashtag #CMTcrossroads.
RELATED: How Many Guitars Does Sheryl Crow Own?
Photo Credit: CMT.