A History Of Hosting: Carrie Underwood and Brad Paisley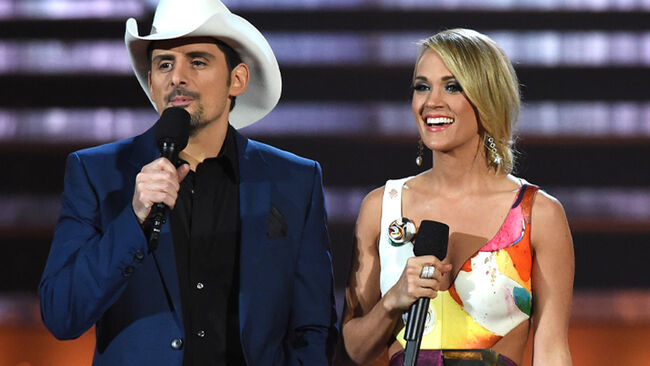 After 11 years of co-hosting the annual CMA Awards, Carrie Underwood and Brad Paisley have shared some pretty outrageous, outlandishly hysterical moments. With Brad not returning to this year's hosting duties, let us revisit some of our favorite moments from the CMA Stage!
Talk a walk down memory lane by browsing the gallery below.
The 53rd Annual CMA Awards are around the corner, and this year, the CMA board has announced a new lineup of show hosts. Dolly Parton, Reba McEntire, and Carrie will be locking arms as CMA Award hosts and will be celebrating country music's legendary female figures.
"It's an incredible honor to welcome Carrie, Reba and Dolly to the CMA Awards stage this year," says Sarah Trahern, the CMA's CEO in a press release. "In addition to awarding the year's best and brightest in the genre, the 53rd Annual CMA Awards will celebrate the legacy of women within country music, and we couldn't think of a more dynamic group of women to host the show."
RELATED: Carrie Underwood & Brad Paisley Moments That Made Us Actually LOL.
The 2019 CMA Awards will be broadcast live from Nashville's Bridgestone Arena on Nov. 13 at 8 PM ET on ABC. 
Photo Credit: Getty Images.