​Thomas Rhett's Wife Lauren Shares Photos From 'Magical' Night At The Fair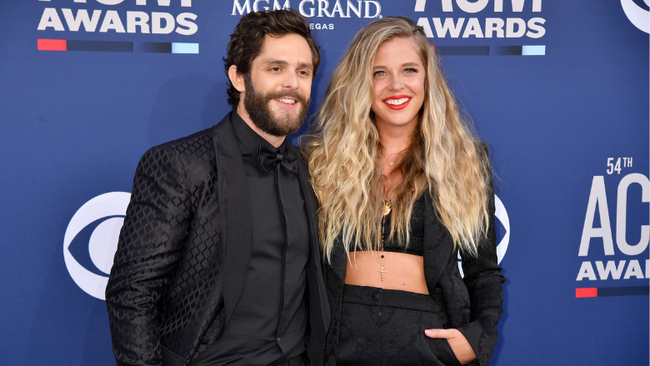 Thomas Rhett and his wife, Lauren just took the family out to enjoy a summer night at the fair. Lauren shared a few photos to her Instagram last night (August 6) and it looks like the family had a great time.
The first photo is a selfie of the whole family, showing their two daughters, Ada James and Willa Gray rocking the face paint. In addition to the adorable family selfie, Lauren also shared more photos from the evening including a picture of her with Willa Gray, one of Rhett holding on to Ada James while on a ride, and another of just her two girls with big ole' smiles on their faces. She wrapped up the series of photos with one more family picture and a selfie at the end taken in the car after a storm blew in.
"First pic was about 35 seconds before the storm hit and we all ran to the car," Lauren writes in the caption. "@larrydonald ftw. he ran all the way back in the rain to the car holding AJ [Ada James] while TR [Thomas Rhett] and his not-so-dad-bod ran with WG [Willa Gray]."
She goes on to say, "Because let's be honest #mamacantrunfastthesedays ...meanwhile, @jtylerpage was standing in line waiting for his ice cream cone. Real question- did the icecream survive the torrential downpour? #probablynot #dedication #thenightwasstillmagical #worthit"
Safe to say the family had quite an adventure-filled night at the fair. Props to Lauren for hanging in there because based on her previous post, she's been dealing with terrible morning sickness, or as she described it, "more-like-all-day-not-just-morning-sickness." The couple announced they are expecting their third child, another girl, back on July 23.
Safe to say that between Lauren's pregnancy, raising two toddlers, and Rhett's crazy schedule, the family is keeping busy. Nice to see that in the midst of the chaos, they still find time to spend with their family and friends at the fair!