Tie-Dye Frappuccinos Launching At Starbucks For Limited Time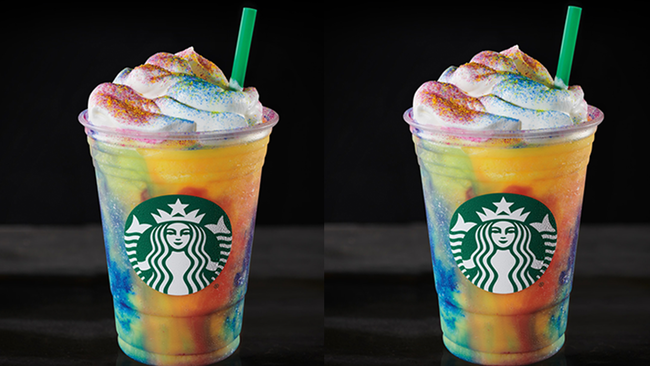 Starbucks' latest concoction might be their most Instagram-able menu item yet. The coffee giant's Tie-Dye Frappuccino is a fun blend of all the colors in the rainbow created with a slew of tasty ingredients. You'll want to get your to local Starbucks ASAP, though, because this frozen summer treat is only available for a limited time.
Here's how Starbucks describes the Tye-Dye Frappuccino: "This deliciously fruity drink is vibrant with red, blue and yellow tie-dye swirls, topped with vanilla whipped cream, and dusted with red, blue and yellow powder." To create the yellow, red and blue colors, Starbucks combined turmeric, red beet and spirulina. This combination reportedly creates a "tropical fruit flavor" in the beverage. The other ingredients include ice, milk, vanilla syrup and crème frappuccino syrup.
Rumors of the Tie-Dye Frappuccinos' arrival at Starbucks started to swirl on social media after some of the company's baristas shared photos of the icy beverage. While Starbucks aimed for a "tropical fruit flavor," one baristas described it as tasting more like "banana Laffy Taffy." Another said "the overall flavor is a light banana with a hint of vanilla."
Tie-Dye Frappuccinos will be available beginning Wednesday (July 10) and staying until supplies last. According to Starbucks, the colorful frappuccino "won't last long."
Are you going to try the Tie-Dye Frappuccino?
Photo: Starbucks