Watch 17-Year-Old Thomas Rhett Perform At His High School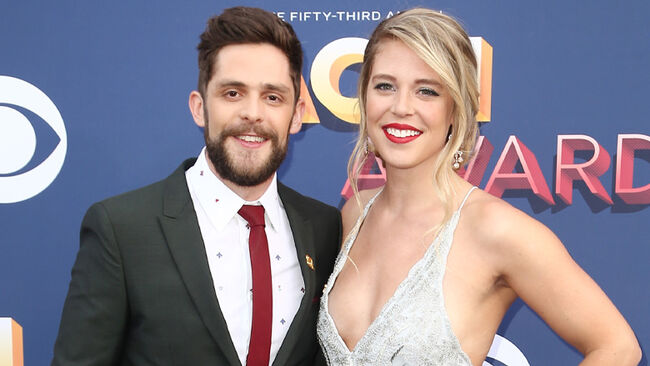 On May 31st, Thomas Rhett released what he is calling his most nostalgic record. The collection of songs come together on his 'Center Point Road' project and showcase what life was like for TR growing up, the lessons he learned along the way, and the moments of his childhood that he carries today.
Thanks to his wife, Lauren Akins, country fans can now see 17-year-old Thomas in action.
Lauren shared a throwback video of her then 'best friend' Thomas performing Brad Paisley's "Letters To Me" at their high school. In the clip, we can see TR comfortably strumming his guitar from his stool. He is barefoot, his hair tasseled under a ballcap, and he forgets the lyrics for a short portion but never misses a beat.
Lauren's heartfelt caption says it all.
"Over 11 years ago in high school, he was STILL just the CUTEST (especially when he forgot the lines-heart in a PUDDLE ((2nd clip)) most talented and most resilient guy I knew. I was so beyond proud of him as one of his best friends. He's clearly always been a natural entertainer, and the crowd has always loved him haha Now I get to be his wife and have a front row seat to it all!" Lauren continued to sing his praises. "I'm still just so proud of you, honey!! Even MORE proud of you and who you are and so proud of this super personal, super talented, super AWESOME new album, Center Point Road. It's such a nostalgic album for me too because I got to live so much of it with you. Not to mention all the songs written about our family and life today. What a cool life we get to do together! So thankful. Happy album release babe!!! I love you**thanks @calteri for sending me this video-I'm so glad you still have it!! #CenterPointRoad"
In a recent interview with Cody Alan, TR revealed that this record really anchors his life and reveals a lot about his marriage. "A lot of the songs on this record refer back to me growing up and the lessons that I learned along the way," Thomas explained. "A few of the love songs on the record go a little deeper into mine and Lauren's relationship than I feel like even, "Die A Happy Man" and "Unforgettable" went. Less rainbows and butterflies if you will. Just a little bit of a deeper layer."
Listen to Thomas Rhett as he joins Cody Alan's Cody Cast Podcast. Streaming ON DEMAND now.
Photo Credit: Getty Images.