Jason Aldean Wins Monumental Artist Of The Decade Honor At 2019 ACM Awards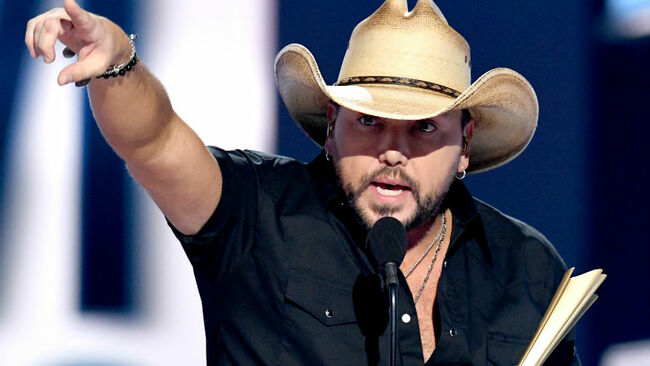 Jason Aldean was awarded the ACM Dick Clark Artist of the Decade Award at the 54th ACM Awards on Sunday night (April 7), making him the sixth entertainer to be honored with the big-time accolade for his achievements in touring and record sales.
During his big acceptance speech, which was preceded by an intro from the last Artist of the Decade honoree George Strait, the 42-year-old performer said that the title goes hand-in-hand as to why he always accessorizes. "That's the reason I wear the cowboy hat right here. Thank you so much. I look out and see a lot of artists out here that have had a hell of a decade," he admitted at the podium. "This one right here: my boy, Luke Bryan. Carrie [Underwood], Keith [Urban], Kenny Chesney and I feel very fortunate to have this."
Aldean, who also performed a medley of hits like "Lights Come On," "Don't You Wanna Stay" and Dirt Road Anthem," went on to admit that country music fans and country radio have made a incredible impact on his life and he's all too grateful. "You guys have changed my life forever," he continued with the trophy in-hand. "Thank y'all so much. This is one of the proudest nights of my life."
Among the other performers honored with the ACM Dick Clark Artist of the Decade Award include Marty Robbins, Loretta Lynn, Alabama, Garth Brooks and the aforementioned Strait. Stay tuned for even more from the 54th ACM Awards, including an up-to-date list of winners, as well as recaps of all the other buzzworthy performances from the Reba McEntire-hosted ceremony!