Get Carrie Underwood's Pregnancy Style And Keep A Skinny Wallet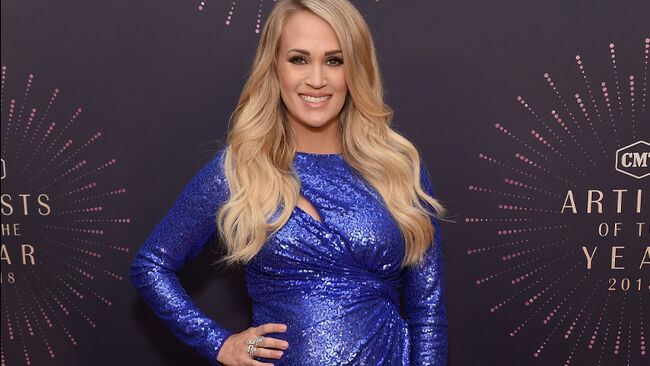 Get Carrie Underwood's Pregnancy Style And Keep A Skinny Wallet!
Its true, pregnant Carrie Underwood may be forced into the comfort of her husband Mike Fisher's clothes on occasion, but she is shamelessly glowing.
She has been known to drop jaws for her vocal abilities, turn heads with her fashion-forward style and leave us astonished by her ability to balance life while supporting women. Frankly, Carrie Underwood seems to be country music's real life, "Wonder Woman."
Carrie fans love everything about her, including her style. So how do you pull together a Carrie Underwood holiday look without breaking the bank? Be ready to shop for yourself or share this fashionista scoop with your baby-expectant friends.
We have chosen to steal Carrie Underwood's look from her Sept, 19th "Love Wins" performance on Jimmy Kimmel Live! The offset grays and light shimmer add just enough holiday flair to say, "I'm here to celebrate" without saying "I'm here to shine as bright as the Christmas tree." This holiday style balances chic and comfortable.
RELATED: Carrie Underwood's Baby Was Kicking During Her iHeart Festival Performance.
Here's how you get the look:
On Jimmy Kimmel, Carrie was wearing Isabella Oliver's Zadie Stretch Maternity Jeans ($129) and FRYE's Nora Zip Short ankle boots in black multi ($194 to $298). We could not source her top, however, we have added a low guestimate that her top would retail for $150.00. For this look, we average that Carrie spent about $577
Here's how you steal the look:
You can snag Underwood's fashion-forward ensemble for much less using alternative brands from stores such as Motherhood Maternity's Secret Fit Belly Skinny Maternity Ankle Jeggings (usually $50 but currently 30 percent off!). There's a variety of ankle boot options available this season. We found precious gems of comfort at Aerosoles that retails for $79 to $100 depending on size and color. While we may not have found Carrie's exact top option to compare, we did find this Off The Shoulder Metalic Sweater from Venus for $34 or this Full Fringe Black Top from H&M ($27.99) You can spend as little as $148.
Leaving the extra $429 in your savings account should warm your holiday heart.
Photo Credit: Getty Images.