Carrie Underwood's Husband Remakes 'Before He Cheats'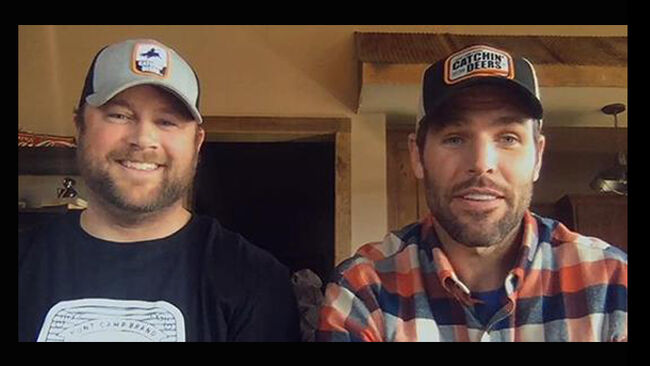 Mike Fisher, Bud Fisher, and Austin Casselman are singing a new tune and its oddly familiar.
'Catchin' Deers,' an outdoor apparel company established by the hunting buddy trio has released their first music video "Before He Bleats." Parodying Carrie Underwood's smash hit "Before He Cheats," this track hit the bullseye when branding the company.
'Catchin' Deers' Moto: "Take your hunting seriously and yourself lightly."
Founded on humor and hunting, the trio went all in when making their first music video.
"When I realized Mike was going to sing, I thought, 'can he hit those high notes?'" said Casselman in a press release. "I think he actually sounded pretty good but shooting took forever because he was never able to keep a straight face."
"We wanted to make this music video to make people laugh," said Fisher. "It's how we are known in the hunting industry. We are the funniest hunting brand. It's about fellowship and laughing for us. This was a great way to showcase that. My brother Bud came up with the lyrics, and once we heard it, we all loved it and were laughing so hard."
The 'Catchin' Deers' company was created after a hunting trip in Kentucky when Casselman broke the camp code by asking, "Hey, Y'all catch any deers?"
The Fisher brothers goaded their pal for his remarks because everyone knows you don't catch deer.
One year later, Bud Fisher showed up for their opening weekend at deer camp with six black-and-white trucker hats screen-printed with the phrase: CATCHIN' DEERS.
Bud's inability to let an inside joke die may have sparked the best music video that the outdoor industry has ever witnessed.
Fisher has no immediate plans to chase a career in music, however, he has been spotted singing in public on multiple occasions.
RELATED: Garth Brooks Still Wants to Sing with Mike Fisher.
Want to scope out the latest and greatest from this trio? Join the fun via their website www.catchindeers.com and follow on social media, Facebook and Instagram.
Photo Credit: BRANDed PR.