30 Days 30 Dishes: Pumpkin Spice… Donuts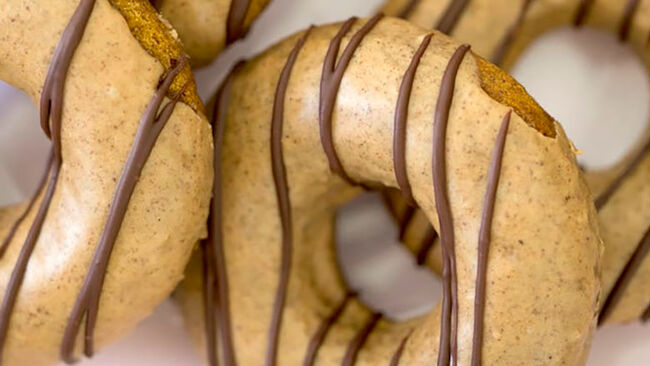 November 5th
Are you celebrating "National Donut Appreciation Day"? You should, and this sweet and easy recipe is here to help you win the day by savoring the best of fall. The only problem is that its so delicious you will regret not making these year-round.
Today's mouthwatering and coveted baked good is coming to you straight from the CMT kitchen, with a little guidance from John at PreppyKitchen.com.
Pumpkin Spice Donuts
Donut Ingredients:
· 2 cups all-purpose flour
· 1/2 cup brown sugar packed
· 2 teaspoons baking powder
· 2 teaspoons pumpkin pie spice
· 1/2 teaspoon salt
· 1/2 teaspoon baking soda
· 1 cup pumpkin puree
· 1/2 cup milk
· 1/4 cup butter unsalted, room temperature
· 2 eggs
· 1/2 Spice Mix
Spice Mix Ingredients:
· 2 teaspoons of instant espresso
· 1/2 teaspoon of allspice
· 2 teaspoon cinnamon
· 1/4 teaspoon of ginger
· 2 tablespoons of cream
Glaze Ingredients:
1/2 Spice Mix
1 1/4 cup confectioners sugar
2 tbsp milk
Instructions:
Heat oven to 325 degrees. Coat donut pans with grease or cooking spray.
In a stand mixer, combine flour, brown sugar, baking powder, pumpkin pie spice, salt, and baking soda.
In a small bowl, combine all spices -- instant espresso, cinnamon, ginger, cream, and confectioners sugar. Whisk together, then add to the stand mixer bowl.
Add in pumpkin puree, eggs, milk, and butter. Mix on low until mixture is thick.
Move batter to a piping bag. Squeeze into the donut circles, 1/2 the way up to each holder. Cook for 10-14 minutes.
Transfer to a wire rack. Let the donuts cool.
For the Glaze:
Combine milk and spice mixture in a mixer until smooth.
For the Ganache:
Melt chocolate and espresso powder, mix and transfer to a piping bag.
Assembly:
Dip cooled donuts into the glaze mixture. Let sit for a few minutes.
Squeeze ganache in a swiping motion to produce fluid, chocolate lines.
Have a recipe that you would like to submit for a feature?
Email Cody Alan using the subject line: "30 Dishes 30 Days." Email: Cody@cmt.com